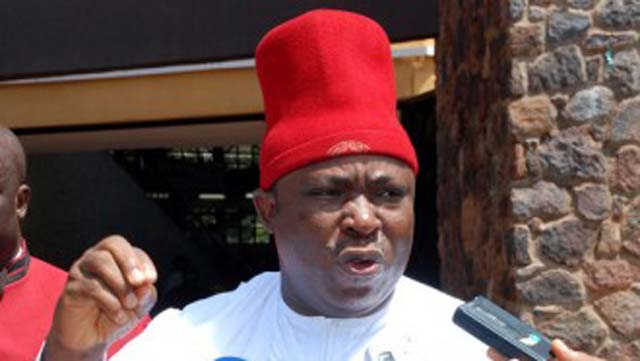 A chieftain of the Labour Party (LP), Victor Umeh on Wednesday submitted that contrary to some opinions, the party is not weak.
He argued that Nigerians have given their overwhelming support to the Labour Party and its presidential candidate, Peter Obi and many of their opponents will be shocked about the outcome of the 2023 elections. He stated further that even some politicians who belong to the All Progressives Congress (APC) and the Peoples Democratic Party (PDP) will vote for LP even though they may not openly identify with the party. Umeh, a former National Chairman of the All Progressives Grand Alliance (APGA), who is now a senetorial candidate of the Labour Party said 2023 is about saving Nigeria. Naija News reports he spoke during Channels Television's breakfast show, Sunrise Daily. In his words, "The issue is not about where you belong now. I know that there are people in PDP who will vote for Labour Party. I know that there are people in APC who will vote for Labour Party. What is important is the task of rescuing Nigeria and people don't believe that this thing can work outside this platform."
People Are Our Structure
Reacting to comments that Labour Party does not have structures and the recent promise by the Nigeria Labour Congress (NLC) National President, Ayuba Wabba that the union will mobilize 12 million votes for the party and Obi, Umeh said it is a welcome development which is ultimately targeted at making Nigeria better through good leadership. "It is a structured organisation" and unionists are also suffering, he said.
Labour Party Will Spring A Surprise
Speaking further, Umeh maintained that those belittling the Labour Party are in for a surprise come 2023 and the party has the full support of Nigerians. "The people are with the (Labour) Party. Look at things going on in Nigeria across the states of the Federation. If you say that the Labour Party is weak in some areas, they spring up a surprise…What is the power of the Labour Party now are the people," he said.
PDP, APC, Others Are Panicking
He said further that the growing popularity of the Labour Party and its candidate has sent other parties into a panic mode. According to Umeh, despite the opposition, the party is waxing stronger. He said: "People from the other parties are now panicky. Initially, they were making loose statements that the party is nothing. Today, Labour Party is their nightmare. Why has it happened? Is Labour Party sharing money? Labour Party is not sharing money."
Obi Is Consulting With Everybody
The LP senatorial candidate also stated that Obi is making inroads into the north and will get votes from the region and other parts of the country. "He (Obi) has been consulting. Mr Peter Obi is one of the most-travelled presidential candidates consulting all zones in the country, meeting people," Umeh said as he allayed fears.
This article was originally published on Naija News