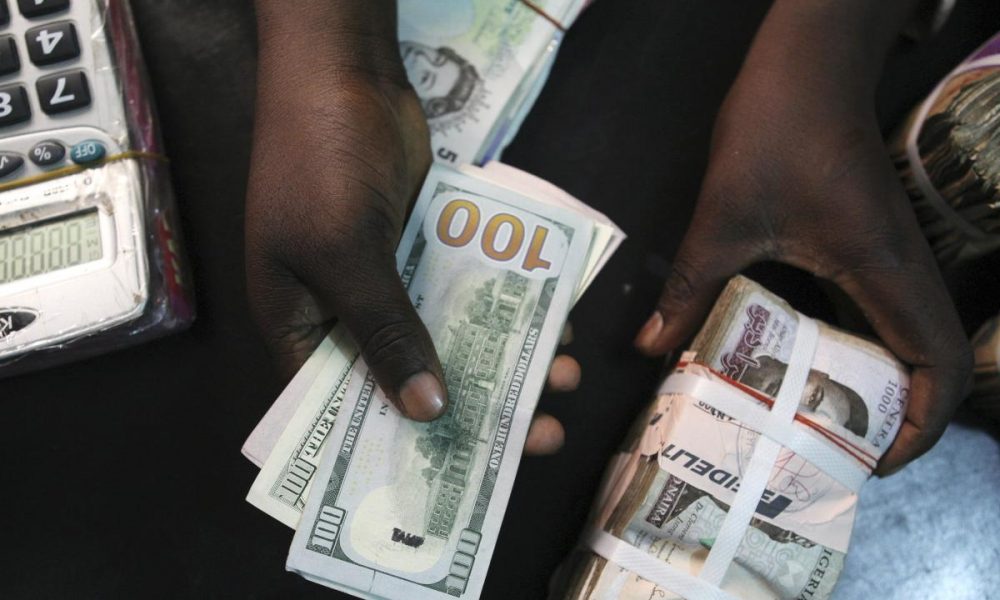 Thursday, 30th June: This is the news about the Dollar to Naira rate at the official and black market exchange rate.
Read Naija News update on the official dollar rate in nigeria as well as Black Market rates, Bureau De Change (BDC) rates, and CBN rates.
How Much Is Dollar To Naira Exchange Rate Today Official Rate?
The official rate today, Thursday, June 30th, 2022, for $1 dollar to naira = ₦420.96/$1.
According to the data obtained from the FMDQ, where Naira is traded officially, the exchange rate between the naira and the US dollar opened at ₦420.96/$1 on Thursday 30th after it closed at ₦424.88  to a $1 on Wednesday, 29th June 2022. Naija News reports that the dollar to naira exchange rate has maintained an average of N416.69 to a dollar since the beginning of the new year.
How much is a dollar to naira today in the black market?
The exchange rate for a dollar to naira at Lagos Parallel Market (Black Market) players buy a dollar for N590 and sell at N612 on Thursday, June 30th 2022, according to sources at Bureau De Change (BDC). Please note that the Central Bank of Nigeria (CBN) does not recognize the parallel market (black market), as it has directed individuals who want to engage in Forex to approach their respective banks.
Dollar to Naira Black Market Rate Today
| | |
| --- | --- |
| Dollar to Naira (USD to NGN) | Black Market Exchange Rate Today |
| Buying Rate | 590 |
| Selling Rate | 612 |
Trading at the official FAAC Allocation Declines By 30%, States' Finances May Worsen
Federal, state and local governments' revenue allocation has dropped from a peak of N970.57bn in July 2021 to N680.783bn in May 2022. The decline in the allocation represents a 30 per cent reduction over the period. The decrease in allocation to these levels of government reveals the fiscal challenges facing various levels of government in Nigeria. A Professor of Economics at the Covenant University, Jonathan Aremu who spoke with Punch said, "It is obvious that with this outlook, state governments will not be able to execute capital projects, pay salaries and meet other needs. This is time for states to look inwards." According to the International Monetary Fund estimates, Nigeria earns its biggest revenue from crude oil, but it has paid N2.1tn subsidy in the first six months of the year and could pay another N4tn by the end of the year. The opaque and fraudulent subsidy regime has made it nearly impossible for the Nigerian National Petroleum Corporation to make remittances to the government consistently.
This article was originally published on Naija News