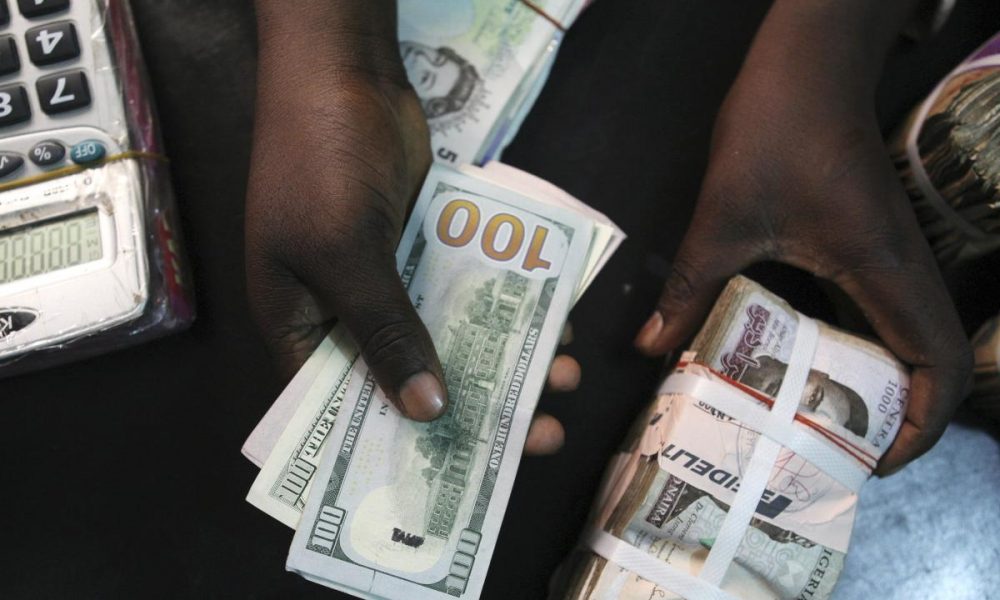 Tuesday, 28th June: This is the news about the Dollar to Naira rate at the official and black market exchange rate.
Read Naija News update on the official dollar rate in nigeria as well as Black Market rates, Bureau De Change (BDC) rates, and CBN rates.
How Much Is Dollar To Naira Exchange Rate Today Official Rate?
The official rate today, Tuesday, June 28th, 2022, for $1 dollar to naira = ₦420.70/$1.
According to the data obtained from the FMDQ, where Naira is traded officially, the exchange rate between the naira and the US dollar opened at ₦420.70/$1 on Tuesday 28th after it closed at ₦421.00  to a $1 on Monday, 27th June 2022. Naija News reports that the dollar to naira exchange rate has maintained an average of N416.69 to a dollar since the beginning of the new year.
How much is a dollar to naira today in the black market?
The exchange rate for a dollar to naira at Lagos Parallel Market (Black Market) players buy a dollar for N607 and sell at N612 on Tuesday, June 28th 2022, according to sources at Bureau De Change (BDC). Please note that the Central Bank of Nigeria (CBN) does not recognize the parallel market (black market), as it has directed individuals who want to engage in Forex to approach their respective banks.
Dollar to Naira Black Market Rate Today
| | |
| --- | --- |
| Dollar to Naira (USD to NGN) | Black Market Exchange Rate Today |
| Buying Rate | 607 |
| Selling Rate | 612 |
Trading at the official Telecom Firms' Operating Costs Rise By N265bn – NCC
The Nigerian Communications Commission has disclosed that the operating costs of telecommunication companies in Nigeria have increased. The '2021 Subscriber/Network Data Annual Report' released by the commission shows that operating costs rose from N1.4tn in 2020 to N1.66tn in 2021. The report read in part, "Total operating cost for the mobile network operators increased from N1,395,000,000,000 in 2020 to N1,658,235,000,000 at the end of 2021. This illustrates an increase of 18.74 per cent from the figure reported in 2020." Telecommunication providers under the aegis of the Association of Licensed Telecommunications Operators of Nigeria in April 2022 noted that the rise in the price of diesel affected the operational costs. The operators asked the Federal Government for special interventions. The President of ALTON, Gbenga Adebayo, while speaking on the price of diesel said operators might have no other choice but to begin a process of price review.
This article was originally published on Naija News