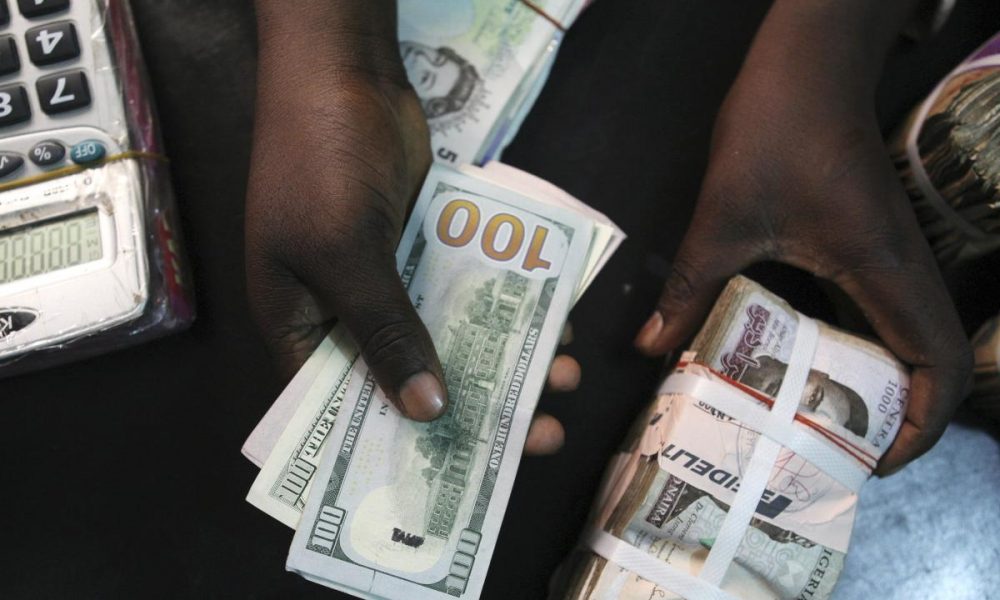 Wednesday, 29th June: This is the news about the Dollar to Naira rate at the official and black market exchange rate.
Read Naija News update on the official dollar rate in nigeria as well as Black Market rates, Bureau De Change (BDC) rates, and CBN rates.
How Much Is Dollar To Naira Exchange Rate Today Official Rate?
The official rate today, Wednesday, June 29th, 2022, for $1 dollar to naira = ₦421.80/$1.
According to the data obtained from the FMDQ, where Naira is traded officially, the exchange rate between the naira and the US dollar opened at ₦421.80/$1 on Wednesday 29th after it closed at ₦421.00  to a $1 on Tuesday, 28th June 2022. Naija News reports that the dollar to naira exchange rate has maintained an average of N416.69 to a dollar since the beginning of the new year.
How much is a dollar to naira today in the black market?
The exchange rate for a dollar to naira at Lagos Parallel Market (Black Market) players buy a dollar for N590 and sell at N610 on Wednesday, June 29th 2022, according to sources at Bureau De Change (BDC). Please note that the Central Bank of Nigeria (CBN) does not recognize the parallel market (black market), as it has directed individuals who want to engage in Forex to approach their respective banks.
Dollar to Naira Black Market Rate Today
| | |
| --- | --- |
| Dollar to Naira (USD to NGN) | Black Market Exchange Rate Today |
| Buying Rate | 590 |
| Selling Rate | 610 |
Trading at the official Electricity: DisCos Payment To GenCos Drop By 50% – Report
Electricity Distribution Companies' payment to Generation Companies for electricity generation has dropped by 50 percent, Naija News understands. Data from the Nigerian Electricity Regulatory Commission (NERC) showed that DisCos were unable to pay GenCos full payment for the quantity of power generated in January 2022. As a result, the generation companies recorded a 50 per cent revenue shortfall, The Punch reports. A breakdown of the data showed that although the 26 generating plants submitted an invoice totalling approximately N72bn, DisCos were able to remit only N37bn, putting the percentage drop in payment to GenCos to 50 per cent. The 11 utility firms collect electricity tariffs on behalf of the Nigerian Electricity Supply Industry, after which it shares payments to the GenCos and the transmission company. GenCos' feedstock for power production is majorly gas. A breakdown of the data showed that Kanji got an invoice of N3bn for January, but was paid only N1.5bn. Jebba had an invoice of N4bn but received N2bn, Shiroro had an invoice of N3bn but got N1.7bn, while Egbin, the largest power plant in Nigeria submitted an invoice of N10bn, but got paid only N5bn.
This article was originally published on Naija News