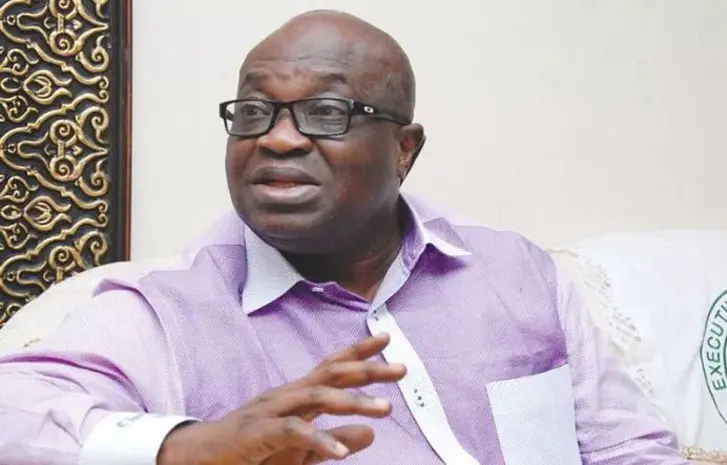 The Governor of Abia State, Okezie Ikpeazu, has asked President Muhammadu Buhari's government to hold talks with the embattled leader of the Indigenous People of Biafra (IPOB), Nnamdi Kanu.
The Peoples Democratic Party (PDP) chieftain said it is important that the federal government listen to what the Biafra agitator have to say regarding the marginalisation of the Igbo in Nigeria. According to Ikpeazu, the government can't win a battle of conscience through the court. Naija News understands that Ikpeazu made the statement yesterday an during interview with Vanguard in Abia. The Abia State governor said he may not be a fan of Kanu but wants some of the issues he has raised to be carefully looked into. Ikpeazu said: "The Federal Government needs to sit down and discuss with Nnamdi Kanu and ask what can we do. We can stay at the table to listen to what he is saying. You can't win a battle of conscience through the court. "Do we need Nnamdi Kanu to tell us that there is no Igbo in the hierarchy of service chiefs in Nigeria Do we need Nnamdi Kanu to tell us that Ndigbo are a marginalized Prelate in Nigeria Do we need Nnamdi Kanu to tell us that rice that was sold for N10k, now goes for N40k? You need to listen to the Igbo who are the only true Nigerians. "How many times have you seen Babalola Nigeria Limited in Azikiwe road, Aba How many times have you seen Alhaji Kazaure Nigeria Limited in Umuahia But there's no street in the South West or North that you don't see Igbo businesses."
Sowore Reveals What Nnamdi Kanu Really Wants 
The presidential candidate of the African Action Congress, Omoyele Sowore revealed on Tuesday that all IPOB leader want is Justice. The activist cum politician who attended the trial of Nnamdi Kanu at the Appeal Court in Abuja, said Nigeria as a country is not progressing nor peaceful under president Muhammadu Buhari's regime because of the torture meted out to the IPOB leader. The Appeal Court, according to the Punch, reserved its judgement on Kanu after his lawyer, Mike Ozekhome, who led the delegation of legal practitioners representing the IPOB leader, urged the court to strike out the remaining charges for a lack of credibility. The court adjourned the matter indefinitely. Speaking shortly after the court proceedings, Sowore said: "Today, I attended the continued trial of the IPOB leader, Nnamdi Kanu, at the Court of Appeal in Abuja. I met his lawyers, Mike Ozekhome (SAN), Aloy Ejimakor and Ifeanyi Ejiofor, and many others as they concluded arguments asking the appellate judges to quash the remaining charges against Kanu. "The unjust incarceration, torture, and extraordinary rendition involved in his trial is clearly a reason Nigeria under the Buhari regime may never achieve peace, progress, and prosperity. "I've met Mazi Kanu in person and I understand him well enough to state that what he wants is justice," Sowore said.
This article was originally published on Naija News